Acknowledgements


We are deeply indebted to the esteemed Fr. C.J. Simones who first had the inspiration and the initiative to translate this book.
We offer him our heartfelt thanks for all his love and hard work. The final version was completed by Miss Marina M. Robb, whom we also thank.
We owe thanks to the author Mr. Klitos Ioannides, and to the contributors to this book who gave their permission for its translation into the English language.
We are especially grateful to all those who read the manuscript and benefited us with their helpful criticism and advice.

____________
(Original letter by the Ecumenical Patriarch)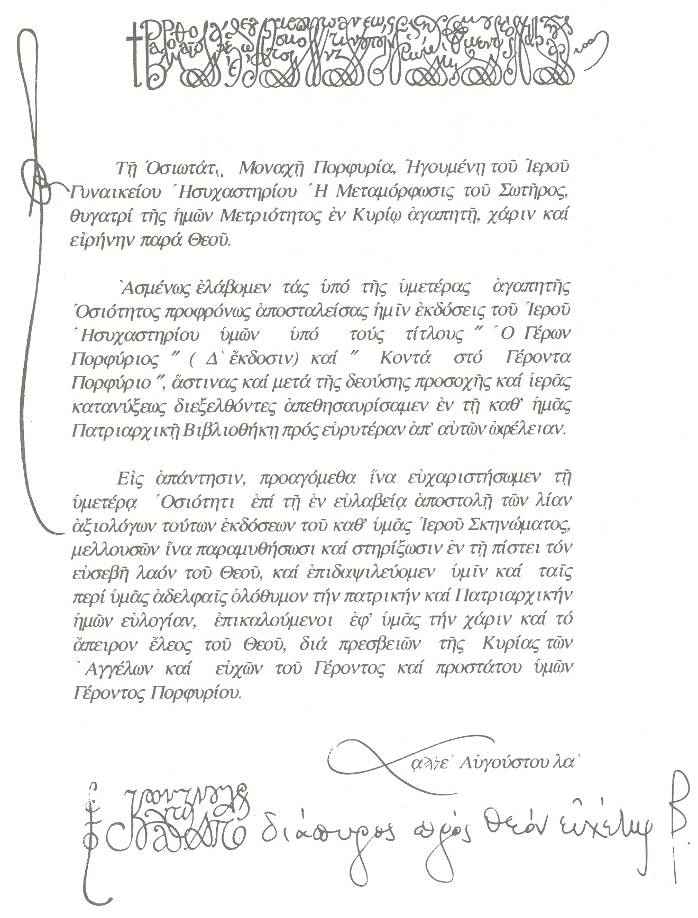 Vartholomew, Archbishop of Constantinople, New Rome and Oecumenical Patriarch.

To the Most Reverend Mother Porphyria,
Abbess of the Convent of the Transfiguration, beloved daughter in Christ,
of Our Mediocrity, grace be to you and peace from God.

We have received with pleasure the publications of your Holy Convent obligingly sent to us by Your Re¬verend Motherhood
under the titles "Elder Porphyrios", (4th edition) and «With Elder Porphyrios» that we have read with devout consideration
and necessary care and which we are treasuring in our Patriarchal Library, towards wider benefit

In reply, we go forth to thank Your Reverend Motherhood for the sending of these very commendable publications of your own
Holy Tabernacle, intended to comfort and uphold in faith the pious people of God. We bestow on you and the sisters around you,
our paternal and Patriarchal blessing, calling upon you the grace and infinite mercy of God, through the intercession of
Our Lady of Angels and the prayers of your Elder and guardian, Elder Porphyrios.

31st August 1995

Archbishop of Constantinople, and fervent supplicant to
God Vartholomew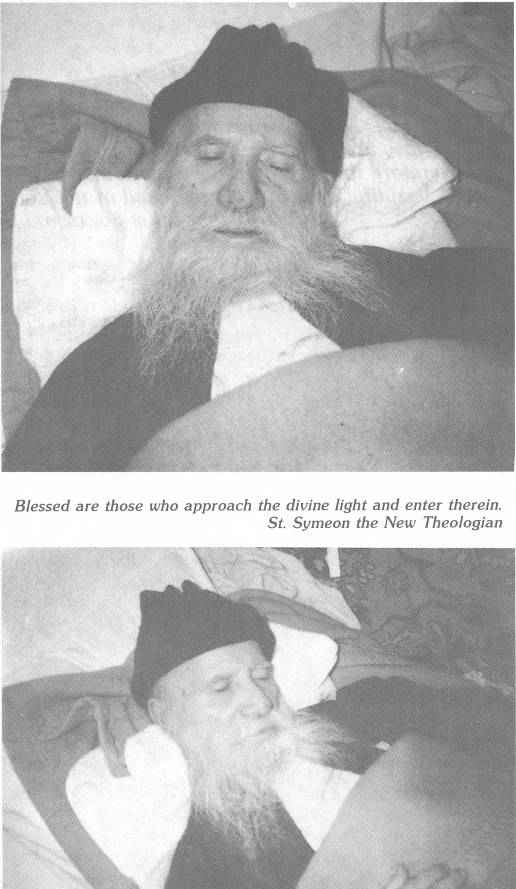 The righteous shall live forever and their reward is with the Lord;
they are cared for by the Most High.
Therefore they shall receive a glorious crown and a beautiful diadem
from the hand of the Lord.


Wisdom of Solomon 5:15