The Metropolitan of Kydonia and Apokoronos,
Irenaeus and associates
=============================================================
In February 1977, Elder Porphyrios visited Crete for five days. After the Elder's departure, the Metropolitan of Kydonias and Apokoronos, Irenaeus prepared two radio programs which were broadcast that same month by Hania Radio. A spiritual son of Elder Porphyrios taped the broadcasts and gave us the cassettes specifically for the second edition of this book.

We are publishing the taped material of those radio broadcasts with the permission of his Eminence Irenaeus and all those who participated. We would like to thank them all. Their names are not mentioned here because they were not mentioned in the broadcast. However, it is known that in addition to his Eminence Irenaeus and the other participants, whose names were not mentioned, was the late Fr. Eleftherios Kapsomenos.
FIRST BROADCAST
Metropolitan Irenaeus.: Good evening. This program wants to have and has the ability to speak and to listen, to ask and to answer, to consider and to discuss.

So until now, this radio program has come to grips with subjects that concern contemporary humanity and young people especially, and has spoken systematically about them.

At the same time, our program, with great awareness, wishes to record events that happen in our land, to explore them and present them from its own point of view.

However, this program especially wants to note and comment upon people who passed through this place and honored it with their presence, bringing a message to our people.
Thus, in the past, we recorded the visits of different people, local and otherwise, and our listeners became participants in their thoughts and endeavors.

Today, we have the great pleasure of introducing a modest and holy clergyman, the Elder, Fr. Porphyrios Bairaktaris, to our listeners and to local people. He is a man who has nothing to do with publicity and current affairs because he lives in simplicity as an ascetic and has never sought fame and distinction.

Today we will talk about his visit to Hania, about his character and his personality.

We are not doing this for his sake but for our area and for our listeners. We want to share the dazzlement, the joy, the fullness, the wonder, and the spiritual resurrection, that we felt from our encounter with him. We believe that we don't have the right not to talk about him.

Elder Fr. Porphyrios is a figure of contemporary monasticism in our country. He was born in Evia and went to the Holy Mountain when he was very young. He grew up and was ordained a priest of Mt. Sinai.*
* For more information see the Elder's biography on pages 33-54 of this book

He serves as a spiritual father in the Polyclinic in Athens and lives in a remote area of Penteli. He is a genuine ascetic and contemporary guide to thousands of souls of all kinds.

During his stay in Hania he met many people and talked to them.

A group of these people are with us today and they will talk to us about Elder Porphyrios.

Thank you very much for coming to our programme, and I would like to ask you to give us some of your impressions I would like you to tell us your opinion of the man, what impression did he make upon you and how did you feel being close to him.

First Guest: I had the great joy, the honor and the blessing to have known Fr. Porphyrios during my student days. However, I never met him again after that, until I saw him, by chance, yesterday and the day before. It was the first time I had seen him in many years. He was with a group of spiritual people and a certain holy clergyman from our town, at the Graves of the Venizelos family.

Even though it was at dusk, I had no difficulty in recognizing him dressed in his knitted, woolen hat. It would not be an exaggeration to say that his face shone with a brilliance, the little of it that showed, like the highlights on an icon of a saint. It was impossible for anyone not to notice it.

This was not the first time, as I said before, that I had this experience. This man is truly a combination of opposites. He is short in height and lean, yet while close to the ground, he can reach up to heaven with his holiness. His proud, ashen but beaming head sits humbly on weak shoulders made tired by the world. It is a head that guides, sanctifies, gives comfort, and even heals.

I remember Alevizatos, the University Professor of medicine who helped him at the altar in the chapel of the Athens Polyclinic.

This great and wise Professor, bowed and kissed his hand every time he gave him something. He kissed the hand of a small uneducated man, as the Elder calls himself. This was an admission of the spiritual stature of the man, of true wisdom, the wisdom of the saints.

How strange! From his hermetic life, faraway from publicity, emerged his reception as a saint. Wherever he found himself, lots of people, I mean lots, ran to him to hear words of life, to confess, to be reinforced and to receive holiness. He gives, gives, gives...tirelessly. I've compared him to St. Nectarios many times, because I saw that they were alike both bodily and in holiness and in grace.

Well, this is how I saw him, like I always saw him. He was small, yet a giant, unlettered yet wise, dressed in his black robes, yet full of light, an old man yet with the soul of a child, a vehicle of grace and holiness unlimited.

Second Guest: Fr. Porphyrios is an exceptional monastic personality of our time. He is an ascetic figure that is enveloped by the brilliance of Divine Grace.

Simple; calm, and, at the same time humble in his greetings, it makes every one feel ecstatic before such a figure. The only thing you can think about at that moment, is that within the turmoil and confusion of our lives, there are holy men like Fr. Porphyrios who make life peaceful, enliven it and lift it up to something better.

Third Guest: May I say that in the person of Fr. Porphyrios I met the virtue of humility in practice. A well-timed fact, I think, for this time of year, the period of Great Lent.

Fr. Porphyrios is the man who St. Paul the Apostle describes as "having nothing and yet possessing all things." At least that's the way it appears, from the outside, and that's the way it's presented to people. He is a man that doesn't shout and yet attracts people to him. He does not say much and whatever he does say is taken from his own practice in life. You are ecstatic before him. You are speechless before him. You can gain a lot by just looking at him. He updates the truth expressed by a monk when he met St. Anthony the great ascetic. When St. Anthony said to him: "Why aren't you talking? Don't you have anything to say? Anything to ask?" The monk answered, "Father, it is enough for me to see you." The same thing also happens with Fr. Porphyrios. Every word of his is filled with new meaning, with truth. Simple yet convincing. He doesn't use figures of speech. He himself said, doesn't know how to use beautiful words because he has no education.

On the other hand, whoever has the good fortune to meet or to have met Fr. Porphyrios can come to the conclusion that the Elder does not only say beautiful words but he says good words. He proclaims the truth of the Good News to those who wish to meet him.

Metropolitan irenaeus: I saw him white, very white, simple, ethereal, down to earth, not even a hint of conceit or false piety. He is a man so full of grace but with a sense of his own transcendence. Upon seeing him, I asked myself, like one enchanted, if he was an angel incarnate. He was smiling and at the same time serious. He was very happy, yet crucified. He was approachable, and yet distant.

It is impossible for someone to describe him properly. When you are near him, you feel something else, something strange, something you've never felt before. It's difficult to define what it is.

You feel that you are with a true, redeemed, free, young man, unaging in his old age, enlightened and wholesome. When you are with him, you feel the joy remaining for hours, it is like being in eternity.

His words are words of a saint and his character is sweet and true. It is the character of a man, of a clergyman, a clergyman of whom we have such great need today. In order to give rest to the soul, to uplift morale, and to be supportive during decisive moments. That's the way I saw him and the way that I see him even in my thoughts, and I glorify God and rejoice that I met him, if only for a little while.

To continue, I would like to ask another question. From all that you heard him say, what did you especially take note of?
Second Guest: We saw him very briefly, too briefly, because he had met, spoken with and confessed many people during the morning. Thus, aware of his exhaustion, we were satisfied with simply greeting him and receiving his blessing.

Along with his blessing, he told us three things, three phrases that were more than enough for us to understand what kind of man he was and what we were capable of becoming. He told us: "My children, confess your sins often, receive Communion and love people." Nothing else. Don't you think that this says it all?

Metropolitan Irenaeus: You previously said that Fr. Porphyrios speaks, and when he speaks, he does it easily and adequately. He has astounding eloquence and his words are always exact. You hear the words of Fr. Porphyrios and you are easily convinced that this man is not verbose. His words are replete, weighty.

He speaks like the prophets in order to reveal things, to explain his experiences, to reveal the truth, God's truth, which is beautiful, universal, and applied easily, without force.

Fr. Porphyrios speaks simply and unaffectedly. He knows what he is saying and he wins you over immediately. Here are a few things which came from his own mouth that I made note of with special joy:

- "If the others aren't saved, you cannot be saved alone. It is a mistake for any person to pray for himself, for his own salvation. We must love others, the world, so that no one will be lost. That has value."
- "I am not afraid of Hell and I don't think about Paradise. I just ask God to be merciful to the entire world and to myself."
- "Our hearts must be full of love, love of God. It gives strength and grace to man. Knowledge comes after love."
- "Confession is a way for a person to come to God. It is God's offering of love to man. Nothing and nobody can deny man that love."

I heard him speak with love for trees, and with great concern about springs and the water upon the earth.

Third Guest: No one can completely ascertain what Fr. Porphyrios wants to say in his conversations. His words have great depth because they are words of life that are revealed constantly to each person individually. I found myself in a conversation that he had started about our way of life. He said roughly the following, from what I could understand:

"Our life depends upon our will. We can live however we want to live. Obstacles and difficulties do not exist for us who want to do what we want. There are no excuses either. We must live according to Christ. We can do it. Fasting is a true way of life. No one is endangered by fasting... Nothing happens to them. I know very well that they've never become sick."
He personally said that he has realized this from his own life. A person gets sick when he is attached to people and to things. He confirmed everything he told us because he had experienced it himself.

Fourth Guest: Unfortunately I didn't hear him speak here in Hania. I didn't hear him guide people. I didn't have the pleasure of his fatherly words. I'm not complaining, though. His holy figure says so much by itself.

When I approached him I felt his radiance envelope my whole being. He knows how to captivate you with his speech. Silence is his rhetoric. He gives off holy words like sweet smelling fragrance, which is exactly what we need in our age and in every age.

Metropolitan lrenaeus: We could talk about a thousand and one things but as we don't have the time I would like to ask in, conclusion, what you think a monk like him offers to the world today?
Third Guest: It is certainly difficult to define what a man like Fr. Porphyrios offers.

Fr. Porphyrios doesn't offer us a method, neither does he keep a list of prescriptions that he gives to people so that we are able to say exactly what he offers.

When one is found near a grace-filled man like Fr. Porphyrios one experiences joy, fulfillment and human relaxation. One experiences the relaxation and abundance of life. It is a precise answer to those things that man has need of today.

Metropolitan Irenaeus: It is really impossible for someone to ascertain the contribution of a man like Fr. Porphyrios. This is a man who sees the world as one, in God's light and the love for everyone. This is a healthy and optimistic man in spite of his age. He is a man without problems and without complexes, without concern and without fear, without anxiety and without doubts. A man who loves and is humble. He is a man who is a true human being.

How can you measure the contribution of such a man to the world today?



SECOND BROADCAST

Metropolitan Irenaeus: Good evening. The Visit to Our land by Fr. Porphyrios was like fresh air in the sun-basked days of February, which has now passed.

In the previous program, we heard the memories and the opinions of people who met Elder Porphyrios.Today's broadcast does exactly the same thing with different people who are with us and who will share with all of us those things that they felt and learned from Fr. Porphyrios.

How did you see this man and what impressions did he make upon you?
Fr. Eleftherios Kapsomenos: Twenty-four years ago, a great Professor of Theology, Amilkas Alivizatos, of blessed memory, said to me one day: "I've found a priest for the Polyclinic Chapel." He was dazzled. "That is to say, there are perfect Fathers, just the way Christ wants them," he explained. Later when I met him I understood why he was a saint. He had all of Christ's gifts: the mind of Christ, the love of Christ and the joy of Christ.

He filled a lot of people, (in Athens and at his retreat in Penteli, where he still lives, as well as those who had the blessing of seeing him for the five days that he was here) with light and strength to follow the way of Christ. However, he especially filled them with joy for that great treasure, our holy faith.

I must add the following, concerning the impression he made upon me. God granted me the blessing to have studied theology, a beautiful gift, a holy branch of learning. However, without granting me the greater blessing of seeing genuine theologians, the divine gift would have been lacking. But God, as we know, only gives perfect gifts. Thus, when the time came, amongst the many genuine and good theologians, I also had the great pleasure of meeting the most genuine and most honorable father of theology. I mean a father, amongst other Fathers, that is to say our own father for those of us who knew him and placed our souls in his hands in his care with complete confidence.

Theology, incarnate in his person, radiates divine light. He is visible theology, just like God the Word who became man and thus, the God-man (Theanthropos), Jesus Christ; the God who is worshipped unto the ages.

Thus Fr. Porphyrios, the faithful servant of God the Word and completely His, also becomes Christ's visible presence for Christians. He makes us theologize, that is, he teaches us about God and fills us up with that teaching.

Fifth Guest: These past few days we were given the opportunity, or rather the favor, of meeting Fr. Porphyrios who visited our region for a little while.

I had heard about the spiritual dimensions of Fr. Porphyrios a long time ago but, in spite of my desire to meet him, I never managed it until a few days ago.

When I first set eyes on him, a feeling of awe filled my being. His posture, full of grace, and the ineffable spiritual delight that radiates around him, made us bow our heads in respect, love, and veneration. I would say, towards a person who was all love, all self-sacrifice, a whole burnt offering, all God, all humbleness, prayer, exultation and mystery.

Sixth Guest: It was the first time I saw him and I thought that I was seeing a saint of our time. The beauty of his face created in me a sense ot awe, respect and even love which is enveloped in his soul.

I was near Fr. Porphyrios for only a short time, but his manner made me remember him for a long time. The divine words that he showered upon us will flood my soul as long as I live. Yes, I'll never forget such a holy father, whom I had the blessing to know.

His simplicity, his experience in spiritual matters, his humility, his total love, really engulfed me when I was near to him. I was oblivious to who I was, what work I did and so on.

I looked upon him as a vigilant father of the desert, of whom we read about in patristic books. Concerning the impression he made upon me, he spoke to me continuously about love. "Everything, my child," he told me, "must start from love toward God."

One truly sees in this spiritual man the totality of God's love. You don't want to leave his side. You constantly and unceasingly want to hear those words of direction that a father, a spiritual father, gives you.
The following also made an impression upon me. Fr. Porphyrios would take examples from nature and proceed towards higher things. I remember him bending over and cutting a flower, saying "This little flower glorifies the Lord with its fragrance." This happened before we entered the Church of SS. Peter and Paul, at Fair Havens, and chanted their troparion.

Metropolitan Irenaeus: You had the opportunity to speak and associate with Fr. Porphyrios. From what you heard him say, what did you take special note of, what remained with you?

Seventh Guest: I knew Fr. Porphyrios in the past, so when he came to Hania, I had the good fortune of seeing him yet again. I had the potentiality to know him well and to realize the great grace that he bore, and which made him perform many wonders in the name of Christ and to theologize, saying the wisest things.

In Athens, Fr. Porphyrios visited a nun from a convent in Crete who was ill. He gave her spiritual guidance and lots of courage so that she could endure her illness. He then went on, amongst other things, to tell her in detail about her convent in Crete, without having ever visited it of course. He also told her exactly where there was a source of water near its grounds that if drilled would be more than sufficient to meet the needs of the monastery.

When the nun returned to her convent she told the abbess what Fr. Porphyrios had told her and they proceeded to dig a well. Water flooded out and continues to flow to this day.

Furthermore, some time ago, while standing outside his hut he saw a woman with a child on a donkey that were some distance away. When he apprehended them, he immediately turned to a lady who was next to him and said, "The child being held by his mother and coming toward us is deaf."
When they approached, Fr. Porphyrios greeted the child, saying "What's your name, son?" The child's mother turned towards Fr. Porphyrios and said, "Don't talk to him because he can't hear."

When we were in Heraklion we were guests of an institution for a short while. There by chance I offered some insignificant gift to a lady who was near us. However, since my gift was so small I faltered.
Then Fr. Porphyrios said to me:

"If you only knew the value of your gift, small as it is. Bearing in mind the Gospel which says that even a cold glass of water, if offered to someone in love, has great impact with God."

Fr. Eleftherios: He tells me, and everyone else who approaches him, that each person needs to know, chiefly for the good of the soul, what virtues and what passions he has and how they are healed. Always with good faith and fervent prayer to Christ as a basis and understanding of the situation, which is pointed out by the gift of a pure mind (nous) or through divine power, as this gift is called in our Church.

However, he doesn't at all ignore people's physical weaknesses. He knows about all infirmities and helps in their treatment or, when the conditions of faith are present, offers cure, (always through Christ's power). He explains to each person that whatever supernatural things he says or does, are only done to awaken love towards Christ in that person. So that just as the faithful person is loved completely by Him, they will also be warmed to loving Him completely.

Fifth Guest: His spiritual pedestal is constructed upon supreme love for God and for man without any bias. He is always ready with the greatest eagerness to sacrifice his whole being upon that altar. That's why the Holy Spirit dwells within him, shedding His light upon him and changing him to light and its rays also illuminating us. In a tremendously wise way the harmonization of all the Gospel rooted elements within him leaves you astonished.

The total theological confrontation of these issues, and especially the most powerful expression of Christian love in her almighty fullness, made us think that God, then and now, "selected the foolish of the world to shame the wise of the world." The proofs of this are the many gifts that grace him, and especially the gift of prophecy, through which he knew a great deal about each person who visited him.

Metropolitan Irenaeus: After all you've said, do you believe that a man like Fr. Porphyrios really has a mission in the world in which we live today?

Fr. Eleftherios: Certainly. The importance of the contribution of a monk today is made obvious in the person of Fr. Porphyrios. It is the presence of Christ's salvation. Monks are heralds of the Kingdom of God, which comes to the world through pure works and sanctification, invariably within the Church.

Monks are, like us, members of the Church, the same Church, by virtue of their baptism. Monks are the most virtuous members of the Church because they seek to make their whole life a continuous hymn and doxology to God. For they do not live alone in the wilderness, but they live with us, with the whole world, and they offer their all encompassing worship for the whole world. They love everyone else first, and one could say that they abandon themselves, since, day and night, they devote themselves to fasting, vigil and noetic worship at the Divine Throne.

The disciples of the great monk, St. Anthony, offer themselves up and support the Universe with their brilliant prayers.

Fifth Guest: Today, a monk with the spiritual existence, life and cultivation of Fr. Porphyrios, could still offer, as in the past, many things to the contemporary world.
He has made himself an example for his fellows by showing us how many indescribable gifts we are worthy of when we live according to divine will in this world. Gifts that are just a prelude to the great gift of eternity. He also becomes in addition to this an imitator of Christ the King. He prays for those who don't pray. He places himself in the service of his fellow man. He embraces not only their joys, but their sorrows and their problems. He is charitable to those who have nothing. He suffers with those who are sick. He cries with those who are crying and rejoices with those who rejoice. He enslaves himself, struggling against the various passions that govern man, in order to acquire virtue according to God and His pleasure. Fr. Porphyrios who visited our town a few days ago, is this model of monasticism.

Sixth Guest: I am an ordinary citizen, a family man, but due to divine intervention I made my personal spiritual being, and that of my family, dependent upon the Church.

Since the guides and leaders of the Church most often were people totally devoted to God, that is monks, I sought their counsel for my spiritual development and direction. This, because the monk prays and struggles day and night, trying to make his life conform with the will of God. That's why I had more faith in what I heard from a hieromonk, because he was inspired by God more, because of his way of life.

The monk, finding himself far from the world, doesn't only struggle for his own salvation but he is moved by love to include the salvation of all people in his immediate concerns, whether they be scientists, technicians, laborers or businessmen. He accomplishes this through prayer in which he expends himself for others who rarely pray or pray very little.

Furthermore, the spiritual existence of a monk, whose main attribute is love, attracts and gives rest to other people. People are inspired by his holy example and they also try to conform themselves according to that example within their own framework.
Thus not only the great Fathers of the Church, but also God inspired Fr. Porphyrios,whose presence, with his high spiritual morale, moved and inspired us deeply.

Metropolitan Irenaeus: We thank you very much for all you told us. We especially thank God, who even today marks out people such as Elder Porphyrios.."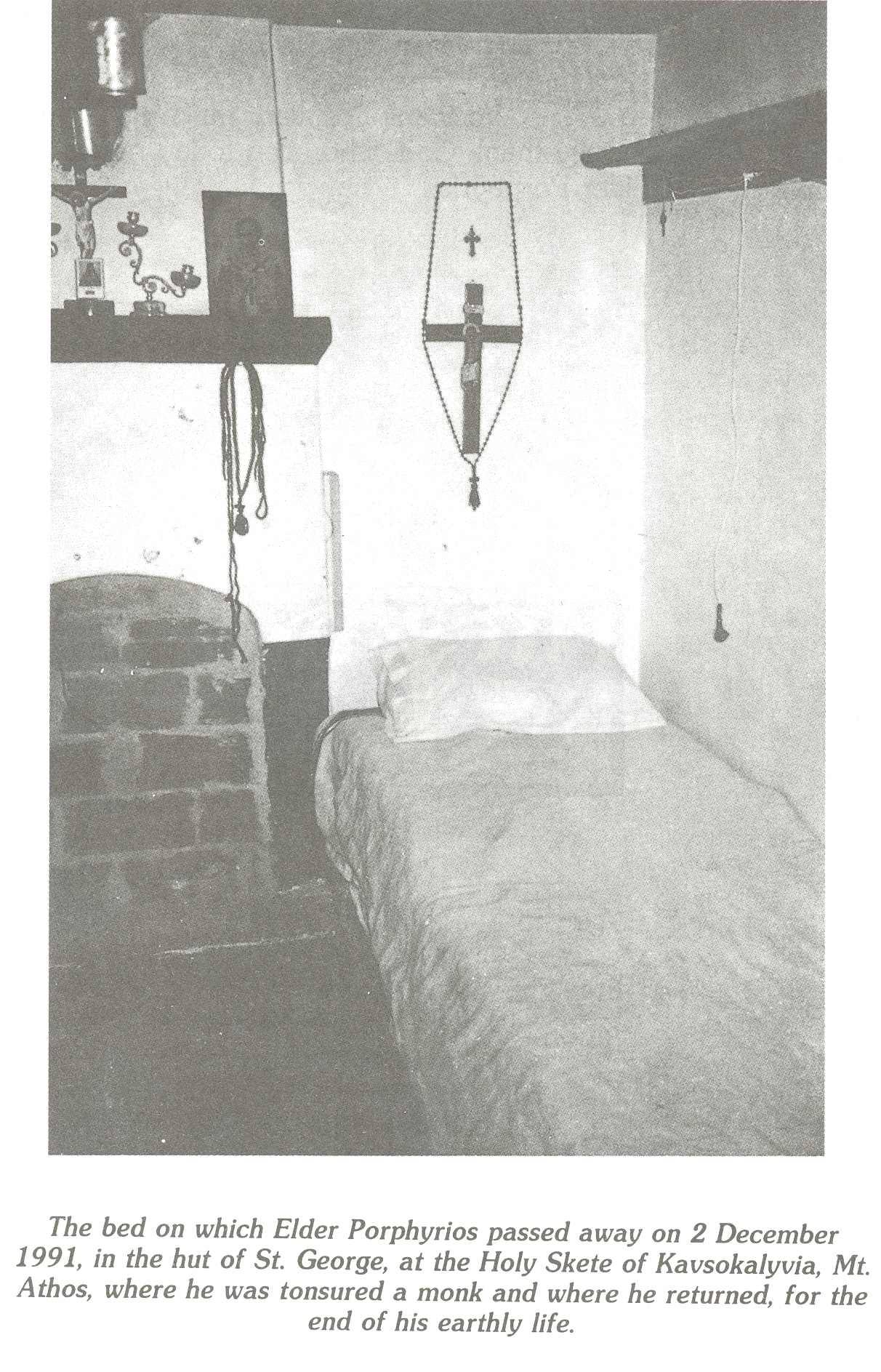 ____________
Previous
//
Contents
//
Next
Article published in English on: 23-2-2009.
Last Update: 23-2-2009.