Panagiota Ghika-Doitsini
Philologist
=============================================================

This text was broadcast on the Radio Station "Church of Piraeus" of the Holy Metropolis of Piraeus on the program "Woman and her World." It is published here with the permission of the speaker.

Today, I would like to remember the hieromonk, Elder Porphyrios Bairaktaris. We all know that he passed away a few days ago. It's December the second and the news of his death is passing from mouth to mouth, from heart to heart, from house to house, like an echo, from all the people who like tired wayfarers quenched their thirst by drinking the clearest water from his well of faith. They were thirsty for truth and they came closer to him. Their pain was lessened. Their sicknesses were healed. Their fears were dissolved and Christ became a heartfelt brother and friend. Words of life came into their lives. The sweet and inspiring Elder felt their pain

Our protector, the starets of Oropos, has passed away. The news is shocking. We still feel his protective hand upon our heads, blessing us. We feel his hand in our hand, measuring our pulse. We have his image in our hearts.

Thousands of people from all over Greece, from every corner of Attica, flocked to the grounds of the Convent in Oropos in tears for his memorial service.

Elder, we heard your heavenly voice once again, your legacies and your counsel. We can't imagine not seeing you again. We will always feel your presence because now you have become our mediator in the heavens. On behalf of thousands of us who loved you and were helped by you, we thank you.

"Blessed are the dead who from now on die in the Lord. 'Yes' says the Spirit, 'they will rest from their labors, for their deeds follow them."

How can I, the least of all, dare to express with my humble words the awe that I feel for the late Elder Porphyrios! Paul is very clear on the matter. How can I express my thankfulness for the many gifts I received from the Lord and Master through the boldness of his prayers!

"Remember your leaders, those who spoke the word of God to you; consider the outcome of their way, and imitate their faith." Paul writes to the Hebrews.

I am convinced that it is not enough for me to talk. I don't know how much of what I say is representative. It is however a mark of gratitude from a soul that was helped. May his love forgive me.
Twelve years ago, the need for spiritual rest near holy people brought me close to him. An old spiritual child of his introduced me to the late Elder.

"Elder," Maria said, "I brought my principal to you."

I objected without wanting to.

"Why did you bring up titles?" I asked her. "Here I'm simply Panagiota."

Strange. The Elder was pleased. He turned and looked deep into my eyes, and he laughed like a little innocent child.

"What you said is correct," he said. "Maria doesn't understand that God doesn't want all that. We walk with him in virtue."

I sat next to him. I opened my heart to him and he listened. I had the feeling, although he took my pulse, he was praying at the same time. I received his holy blessing and left with tears in my eyes.

I often went to see the Elder. I hastened there to find calmness and help for all the difficulties that I came across. I always had the certainty that his prayer was so powerful that God did whatever he asked.

I received a transfer to Amaliada, while at the same time my husband was promoted to principal and was sent to another village in the Peloponnese. My children couldn't be moved because there were no rural schools similar to the ones they were already attending. I went to the Elder with sadness. He involved himself whole-heartedly in my problems. He made them his own.

"Don't worry," he said, using his characteristic foresight. "Your husband will be seconded to Athens and you will buy a pretty home near the sea," he said laughing.

"It's not possible," I said thinking logically about the situation. "We don't have money."

"Everything will happen just as I tell you it will," said the Elder. "You must trust in God's love"

Everything happened just as he told me it would. He laughed again when I told him that we had bought a summer home. He saw it with the eyes of his soul and he described it just like he had seen it.

A few years went by and my daughter finished medical school. She was wondering about which specialty she should follow. My youngest daughter had studied literature.

I found the Elder standing up and in very good spirits. You supposed that he was awash with light. I had gone with my friend, Maria, again, and as soon as he saw me he became happy and he laughingly asked.
"Let's see what she'll ask of me today."

I was surprised myself when I heard my lips answer, "I don't want anything, pappouli. I only want you to help me to remain always under God's mercy and love."

The Elder laughed broadly. What a smile that was! It was like a crack had opened in the heavens and heavenly light spilled onto the earth.

"And you think you're not asking for much," he said to me. "Is there, my child, anything greater than God's mercy and love?"

He started walking in the long corridor outside his cell. One of his arms was in my arm.

He bent over a cage that was in the corridor. He opened the little door and he spoke tenderly to the bird inside.

"Come out for a while," he told it.

He took the bird upon his hand and continued to walk without the bird leaving him. He talked to me at the same time.

I want to tell you what he said to me (without my saying anything to him, nothing at all), "Tell Magdalene to become a paediatrician. It goes along with her psychological make-up. She loves children very much. Don't let Maria trouble you. She will soon find her way. You must become good in order to gain just what you ask from me. You must struggle very hard."

He went back and forth in the corridor. The bird continued to remain obedient on his hand while the Elder was still taking my pulse with his other hand.

He was in a very good mood. At one point he turned to me and said:

"They come here and ask such things of me! Different things. But only the Lord can enlighten a man to
do whatever he should."

He had become tired. He put the quiet bird back in the cage. He turned to Maria and asked if she wanted something in particular.

"Your blessing, pappouli" she said.

"You have it," he said, and put his holy hand upon our heads in turn.

We left. How happy I felt inside! How much grace was imbued in his blessing!

I loved my father very much. When he died I was inconsolable at his loss. In all sincerity the Elder told me. "Your father is close to God! God's mercy has saved him. Pray and thank Him for His kindness."
I went to the Elder when they operated on my mother's kidney. All the tests indicated that things were not going well. Before I was able to bring up the subject, the Elder started to tell me in medical terms that the situation was complex, but that we would pray and everything would be fine. He also gave me some advice concerning her diet and her recovery. Everything turned out famously.

May the name of God be blessed, Who sent His mercy in abundance through Elder Porphyrios.
The Elder's foresight and grace show us another incident that I'll tell you about.

I set off for the Elder's convent with my friend Maria. There was something wrong with the car and my husband had objected to us using it to go as far as Oropos. However, our desire to see the Elder was so great that we ignored the danger.

Things soon proved us wrong. We had just reached the beginning of the dirt road in Agrafa, for those who know the area, when we heard a thundering noise coming from the engine. There was a loud bang and the car stopped. It was stuck where it was. A water truck was coming down from the monastery. I knew the driver.

"Mr. Vangeli," I begged, "come and take a look at my car."

He climbed down from the driver's seat. He lay down under my broken car and started tinkering with the engine. In the end he gave up.

"We can't do anything," he said.

It was beginning to get dark. We locked the car and we set off to see the Elder on foot.

The Elder beat me to it again. Without my having told him anything, he admonished me saying, "What are you going to tell me this time? Why do you let every incompetent meddle with the car's engine?".

He later felt sorry for me since I looked so dejected. I was thinking about the approaching night, the objections before our departure, and the distance from home.

"I'll send you home," he reassured. "The traffic police will help you and the ELPA (The Hellenic Touring Automobile Club, Greek version of the AAA.) will take your car. Don't be afraid, everything will be fine."
"How, pappouli?" I again said dejectedly. "There isn't a soul around."

The Elder bore with me, patiently.

"Someone down at the entrance is waiting to drive you to the Traffic Police," he said.

He blessed us and we left. A car really was waiting for us at the entrance to the monastery without us knowing how it got there. It was driven by a silent young man, who dropped us off outside the Traffic Police in Malakasa.

The administrator was waiting for us. He told us off for being late.

"We're late?" I asked, "How do you know about us?" "Didn't you phone?" he asked.

He became quite pale when I said no, and said, "Have you come from the Elder?"

"Yes," I replied.

He didn't say anything else. He understood.

How, on the other hand, was ELPA informed? The driver of the ELPA car told us that he had lost his way for the first time in his life. He struggled for an hour going round and round the Traffic Police Station. We collected my car, fastened it with chains and got into the ELPA car headed for Athens.

"Are you a believer?" I asked the driver.

"I don't know," he answered abruptly. "I'm now thinking about whether or not we will find a garage open at this hour as you tell me. Those garages close at five."

However, when we reached the garage Mr. Falieros the garage owner was still struggling to close the door. He had been trying for a long time. He had been in torment quite enough. He certainly wouldn't leave the place unlocked with other people's cars there. However, as soon as he put my car inside, the door closed without any trouble.

The ELPA driver car gathered up the chains of the tow truck.

"Listen," he said to me almost abruptly. "I will take you to the main road so you can find a taxi. I have an appointment in Peristeri."

While he was talking, the car radio informed him that he had to go to Halandri via Marousi. So, he took us to the door of my house in Marousi, just like the Elder told us.....
I've passed through bitter times in my life, and I shared them with the Elder. I tearfully begged him to help me. He had reached great spiritual heights. He had true gifts from the Holy Spirit. How many times did I hear his holy mouth talk to me about the power of the Jesus prayer! How many times did I hear him talk about repentance, love towards our enemies and the responsibility of the educator who must teach by example! How many times did I hear him talk about forgiveness that we should show to those who wound us! How many times did I tire him even though he was sick! He showed such tolerance, such love!

He once wanted to go to Mt. Athos because he said the monks were cold in some sketes and he wanted to take them blankets. He took them the blankets. He did this without thinking about his many illnesses or about his weak constitution.

One of the last times that I saw him, he said to me, "Look, Panagiota, you have a very good spiritual father. You do not have to come here again."
I was embittered. I was very embittered at that moment. What do you suppose he is saying? Is he pushing me away? Why?

Now I know. I know that it was his spiritual will. In truth my spiritual father is that person who now takes upon himself the weight of all my weaknesses. May the Elder's blessing make his heavy and laborious work light.
Lord, You manifest the good, true and just worker. You point out whoever identifies his will with Your divine will. You crown all those who are ascetics upon the mountains and all those in the cities who struggle on behalf of virtue. You vest them with Your purple robes. You confirm true faith. You are charitable, and make the lover of man known to all. You love Your children. Give rest also to our much beloved and respected hieromonk Elder Porphyrios.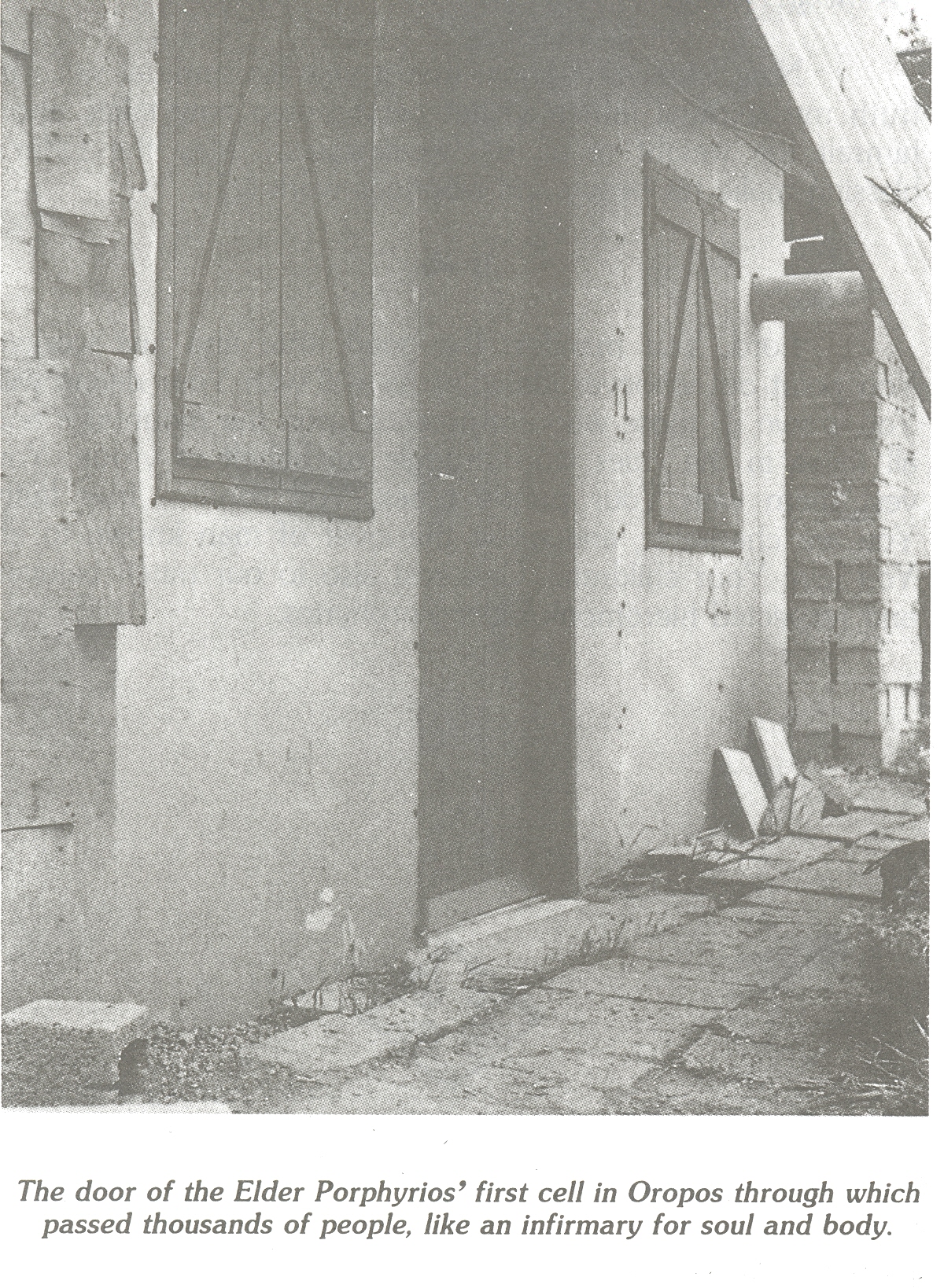 .
____________
Previous
//
Contents
//
Next
Article published in English on: 23-2-2009.
Last Update: 23-2-2009.