PART A: ELEMENTS OF ORTHODOX ANTHROPOLOGY AND THEOLOGY
A. On Orthodoxy
Read the entire English text in the new book soon in circulation under the title:
Patristic Theology: The University Lectures of Fr. John Romanides (2007)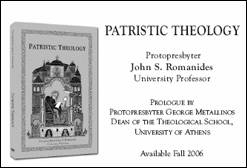 Publishers: UNCUT MOUNTAIN PRESS Translators and Publishers of Orthodox Writings
Publisher's sites: www.uncutmountain.com, www.uncutorthodoxy.com, www.uncutmountainsupply.com
B. Our relation to God
6. THE STATE OF "RECONCILIATION WITH GOD"
7. ON THE MEANING OF THE DOGMA
8. ON THE 'FALL' OF ADAM
C. The role of the Church
9. THE ESSENCE OF OUR ORTHODOX TRADITION
10. ORTHODOXY IS NOT A RELIGION
11. THE THEOLOGIANS OF THE CHURCH
12. ON THE MENTAL PRAYER
13. THE SCIENTIFIC METHOD OF THEOLOGY AND WHO CAN BE CONSIDERED 'GOD-INSPIRED'
14. ON RELIGION
15. ON THE TWO KINDS OF FAITH
D. The Soul's course
16. ON APOLOGETICS CONCERNING THE MATTER OF THE SOUL
17. ON THOUGHTS AND MEANINGS IN MAN
18. THE BASIC DOGMA OF PATRISTIC TRADITION
19. DESCRIBING THE EXPERIENCE OF THEOSIS
E. Meanings
20. ON LOVE (EROS)
21. ON TERMINOLOGY AND THE MAXIMS AND MEANINGS IN THEOLOGY
22. ON THE TWO KINDS OF REVELATION
F. Sources and authorities
23. ON SUBJECTIVENESS DURING RESEARCH AND IN THEOLOGY
24. THE BACKBONE OF ORTHODOX TRADITION
25. WHO A "PROPHET" IS, IN THE NEW TESTAMENT
26. ON THE SACRAMENT OF CHRISMATION
27. ON LAITY AND CLERGY, AND THE CHURCH
G. Trends and conflicts
28. ON THE FRANKISH OCCUPATION AND ON HESYCHASM
29. ON «CONSERVATIVES» AND «LIBERALS»
H. Validity
30. ON THE DIVINELY-INSPIRED STATE
31. ON WHETHER ORTHODOX THEOLOGY IS A POSITIVE SCIENCE OR IF ORTHODOXY IS A RELIGION
32. ON THE DIFFERENCE BETWEEN ORTHODOXY AND HERESY
33. THE METAPHYSICAL ASPECT OF THEOLOGY
34. ON THEOSIS (DEIFICATION)
I. On God
35. WHO GOD IS, AND WHO MAN IS
36. CHRIST IN THE OLD AND NEW TESTAMENTS
37. ON THE HOLY TRINITY – WHO GOD IS
38. THE HOLY BIBLE THROUGH THE PRISM OF WESTERN THEOLOGY
39. ON THE ESSENCE OF GOD
40. PATRISTIC NOTES ON THE HOLY TRINITY
41. DISTINGUISHING BETWEEN THE ESSENCE AND THE ENERGY OF GOD
J. Christian initiation
42. ON THE SACRAMENT OF THE DIVINE EUCHARIST
43. ON THE INCARNATION
44. ON THE MYSTERY OF THE HOLY TRINITY
45. ON THE EXPERIENCE OF THEOSIS AND THE THREE STAGES OF SPIRITUAL LIFE
46. ON THE ENERGIES OF GOD
47. THE METAPHYSICAL VIEW OF RELIGION
K. Wisdom according to God and according to the world
48. ON MONASTIC LIVING
49. ORTHODOXY AND IDEOLOGY
50. ON EXISTENTIALISM
51. ON THEOLOGY
52. REFLECTIONS ON ORTHODOX THEOLOGY
53. WESTERN THEOLOGY AND MODERN SCIENCE
L. Physicians and charlatans
54. THE DIFFERENCE BETWEEN THE ORTHODOX AND HERETICS
55. WHO IS A TRUE THEOLOGIAN?
M. Ecclesiastic conduct
56. ON PRAYER
57. THE SPIRITUAL SITUATION IN HELLAS TODAY
58. ON THE SYNODS
59. ORTHODOXY AS THE OFFICIAL RELIGION OF THE ROMAN STATE
60. ON ECCLESIASTIC MUSIC
PART B: ON THE TEACHINGS OF HERETICS
61. HOW THE FATHERS CONFRONTED HERETICS
62. ON MEDIAEVAL PHILOSOPHY AND SCHOLASTIC THEOLOGY.
63. HOW THE FATHERS THEOLOGIZE
64. THE FOUNDATIONS OF THE EXPERIENCE OF THEOSIS
65. DISTINGUISHING BETWEEN THE ESSENCE AND ENERGY
66. ON THE EXISTENCE OFGOD AND ON THE CREATION OF THE WORLD
67. HERETICS AND THEIR TEACHING
REFERENCES