SAINT CUTHBERT, the wonderworker of Britain, was born in Northumbria around 634. While still young, tending his master's sheep, he had a vision of angels taking the soul of St Aidan to heaven in a fiery sphere. Several days later he learned that Bishop Aidan of Lindisfarne had reposed at the very hour that Cuthbert had seen his vision.
As an adult, St Cuthbert decided to leave the world and embrace the monastic life. He entered the monastery at Melrose, where he devoted himself to serving God. His fasting and vigils were so extraordinary that the other monks marvelled at him. He often spent entire nights in prayer, and would not eat anything for days at a time. St Cuthbert was subsequently chosen to be abbot of Melrose, guiding the brethren by his words and by his example. He made journeys throughout the surrounding area to encourage Christians and to preach the Gospel to those who had never heard it. He also worked many miracles, healing the sick and freeing those who were possessed by demons.
In 664, Cuthbert moved to Lindisfarne, being appointed as prior. While at Lindisfarne, St Cuthbert continued his habit of visiting the common people in order to inspire them to seek the Kingdom of Heaven. Though some of the monks preferred their negligent way of life to the way of asceticism, through his patience and gentle admonition St Cuthbert gradually brought them to obedience and a better state of mind. The saint did not hesitate to correct those who did wrong. However, his gentleness made him quick to forgive those who repented. When people confessed to him, he often wept in sympathy with their weakness and often fulfilled their penances himself.
St Cuthbert was a true father to his monks, but his soul longed for complete solitude, so he went to live on a small island (St Cuthbert's Isle), a short distance from Lindisfarne. After gaining victory over the demons through prayer and fasting, the saint decided to move even farther away from his fellow men.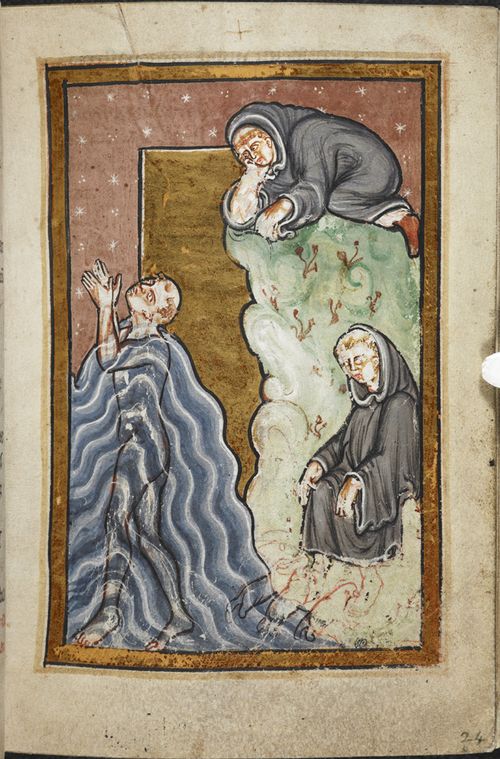 St. Cuthbert of Lindisfarne, one of the great monastic heroes of the Celtic lands, had a way of dealing with the obvious. He would walk into the North Sea from the island where he lived, and stand in the waves up to his neck. It was a dangerous sea, not like an American beach. He stood there at the point of danger – and prayed.
In 676, he retired to Inner Farne, an even more remote location. St Cuthbert built a small cell which could not be seen from the mainland. A few yards away, he built a guest house for visitors from Lindisfarne. Here he remained for nearly nine years.
A synod at Twyford, with the holy Archbishop Theodore presiding, elected Cuthbert Bishop of Hexham in 684. Bishop Cuthbert remained as humble as he had been before his consecration, avoiding finery and dressing in simple clothing. He fulfilled his office with dignity and graciousness, while continuing to live as a monk. He served as a bishop for only two years, however. Sensing that the time of his death was approaching, St Cuthbert laid aside his arch-pastoral duties, retiring to solitude to prepare himself.
Counselling his brethren immediately before his death, St Cuthbert spoke of peace and harmony, warning them to be on guard against those who fostered pride and discord. Although he encouraged them to welcome visitors and offer them hospitality, he also admonished them to have no dealings with heretics or with those who lived evil lives. He told them to learn the teachings of the Fathers and put them into practice, and to adhere to the monastic rule which he had taught them. After partaking of the Holy Mysteries of Christ, St Cuthbert surrendered his holy soul to God on March 20, 687.
Eleven years later, St Cuthbert's tomb was opened and his relics were found to be incorrupt. In the subsequent centuries, the relics were moved several times because of the threat of invasion. They were finally brought to Durham for safekeeping. The saint's relics were opened again on August 24, 1104, and the incorrupt and fragrant relics were placed in the newly-completed cathedral.
In 1537 three commissioners of King Henry VIII came to plunder the tomb and desecrate the relics. St Cuthbert's body was still incorrupt, and was later reburied. The tomb was opened again in 1827. In the inner casket was a skeleton wrapped in a linen shroud and five robes. In the vestments a gold and garnet cross was found, probably St Cuthbert's pectoral cross. Also found were an ivory comb, a portable wood and silver altar, an epitrachelion, pieces of a carved wooden coffin, and other items. These may be seen to this day in the treasury of Durham Cathedral.
The feast of St Cuthbert is kept on the twentieth day of March.