This article was written on the occasion of the feast of the holy Virgin Martyr Markella of Chios (the 'Chiopolitis' - a native of Chios), whose memory is commemorated on July 22nd.
Source: https://euxh.gr/theologia/orthodoxia/agia-markella-paidiki-kakopoiisi

Saint Markella was murdered with unprecedented ferocity by her own father, who was obsessed with sexual lust for her! The girl resisted his wishes to the death – literally - but he finally chased her to the shore and slaughtered her when she became trapped among the rocks! The people of Chios confirm that every year, on the day of her memory, the waters at the site of her slaughter turn red by themselves, as if they too want to honour the pure, virgin blood that was so unjustly and tragically spilled there.
The saint is characterized as 'Virgin-Martyr', because 'virgin' in the ancient Greek language (parthenos) does not only mean a person who is sexually untouched and pure; it is also used when referring to a girl (a young woman, mainly a teenager - unmarried of course). A Christian girl who has not been married is taken for granted to be physically (sexually) unmolested, which is why the Greek terms for 'daughter' and 'virgin' have become synonymous. This is why young and unmarried women who had martyred for their faith in Christ and His teaching are called 'Virgin Martyrs'. Examples of Virgin Martyrs are Saint Marina, Saint Kyriake, Saint Paraskeve, Saint Christina, Saint Barbara, Saint Ekaterina, e.a.. The first four mentioned here are commemorated in July.
The feast-day of St. Markella marks the commemoration of her exceptionally brutal martyrdom (by an abhorrent example of a father who had lost his senses with carnal lust for his daughter to such a degree that he finally hunted her down and slaughtered her far more viciously than the slaughtering of a lamb); a martyrdom that conveys through the centuries a profoundly shocking message regarding child abuse. The element underlying her story that has left a deep impression in people more than any other is precisely the shocking manner of her death and the natural perpetrator of her murder.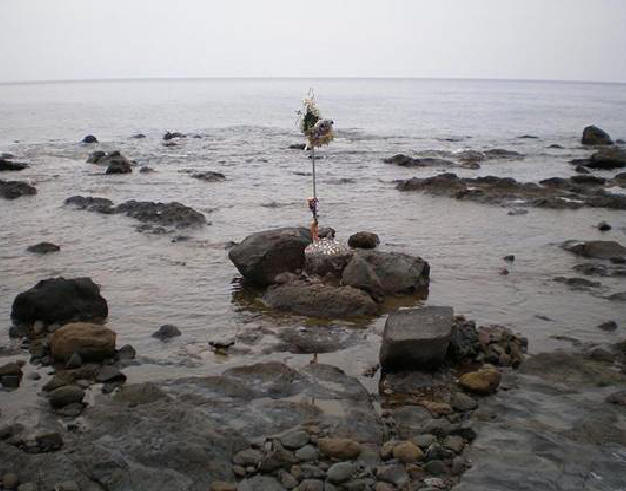 Location marking where the martyr was slaughtered and the water turns blood-red annually on her feast-day.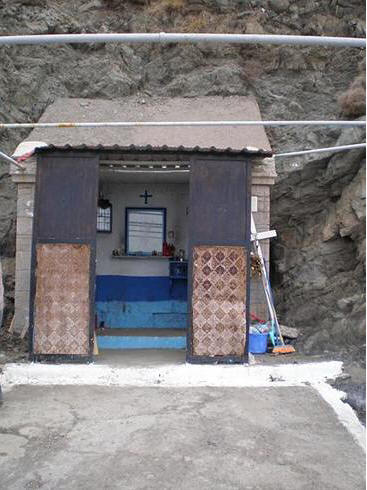 Shrine on the coast - facing the martyr's place of martyr
dom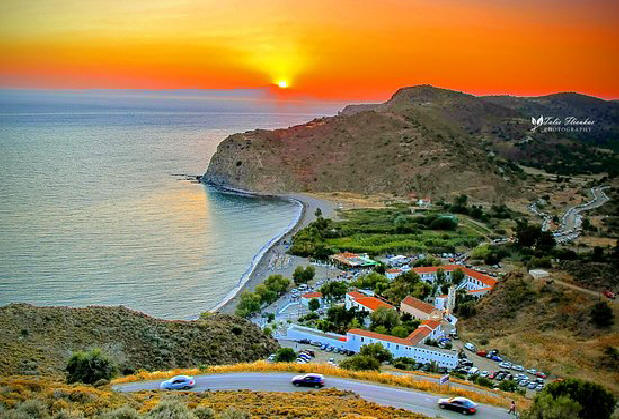 The Monastery of Saint Markella on Chios Island, Greece
The same is true for the feast day of the Holy Great Martyr Barbara (December 4th), where the predominant element of her life that has impressed people is the fact that her own father betrayed her to the Romans as a Christian, allowing her to be subjected to gruesome torture and finally, upon his personal insistence, to be decapitated by his own hand (only to be struck and killed by a bolt of lightning a few days later). This detail is the reason Saint Barbara has been established in Greece as the patron saint of the Military Division of Heavy Artillery.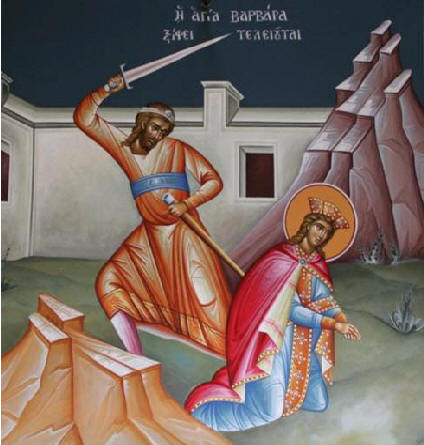 Saint Barbara being decapitated by her father
Two other (but less well-known) saints who were murdered by their father are the Great Martyr Christina, horrifically tortured for being a Christian (commemorated July 24th)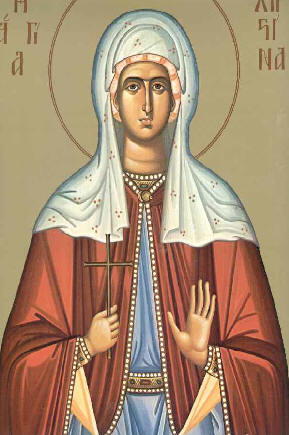 Saint Christina
and Saint Philothea of Arges, Romania, (commemorated December 7th). Orphaned on the mother's side and with an abusive stepmother, the saint was mortally wounded by her father (possibly not intending to kill her) because she was giving away to the poor most of the food her stepmother would give her to take to her father working in the fields. She was only 12 years old!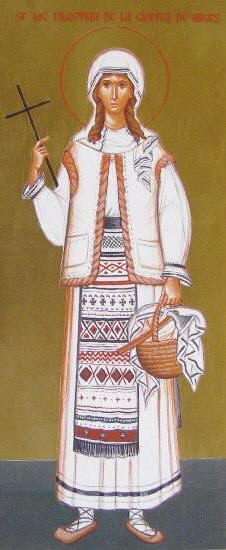 Saint Philothea of Arges, Romania
We might also mention two married Christian women who were victims of domestic violence and are also honoured by the Church as martyrs: they are the Saints both named Thomais: Saint Thomais of Lesvos Islqnd, Greece (commemorated January 3rd) who was beaten to death by her husband, and Saint Thomais of Alexandria, Egypt (commemorated April 14th), who was murdered by her father-in-law for resisting his sexual desires!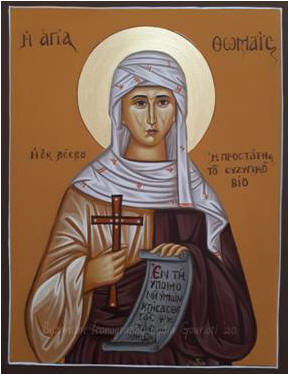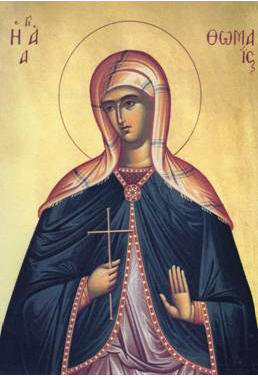 Saint Thomais of Lesvos Island Greece Saint Thomais of Alexandria Egypt
The conclusion one reaches from all the above instances is that domestic violence and child abuse was brought to light by Christians and openly denounced through the Christian Synaxarions (Books of Saints' biographies) mentioning women victims of such violence who are commemorated annually by the Church as saints and martyrs.
It must be emphasized that a person is deified (recognized by the Church as a saint), through evidence of their unyielding faith and love for Christ. They have also been recognized as saints for steadfastly defending their moral Christian principles to their dying breath - and not merely because they happened to have fallen victims to a certain kind of criminal behaviour. The same applies to all the martyrs who had preferred torture and death rather than betray their faith and their moral principles. Most of them would have attained sainthood anyway, for having lived holy lives; although a holy life was also understood as an occasion for them to be tested unto death, even sacrificing their very lives and - according to Orthodox Christianity – anticipating they have earned Eternity.
Translation: K.N.